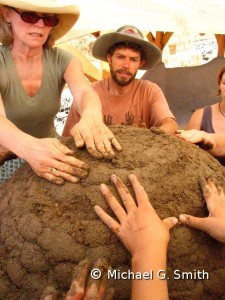 Build Your Own Earth Oven
Hands-on workshop with Michael G. Smith
Saturday, October 19, 2013, 9 am to 4 pm
Rumsey, Capay Valley, CA
Cost: $60 if paid by Sept 20; $75 thereafter. Includes a delicious organic lunch. Kids under 10 are free.
Wood-fired, retained heat ovens have been used for millennia all around the world to bake everything from bread and pizzas to meat and vegetables. Learn to build your own from inexpensive natural materials: clay, sand, straw, and bricks for the floor. This is a great first project for anyone who wants to learn to build with earth and everyone who loves good home-cooked food.
Michael G. Smith has been building with earth and straw since 1993, when he helped found the Cob Cottage Company in Oregon. He is the author of "The Cobber's Companion" and co-author of "The Hand-Sculpted House" and "The Art of Natural Building." He has built over 20 earthen ovens in workshop settings, at private homes, educational centers, a restaurant, a cooking school, and a community center.
To register or for more information, contact me.