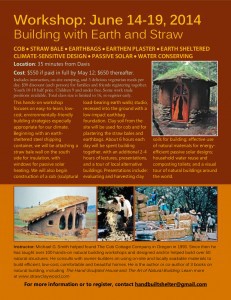 Join me for a 6-day hands-on workshop June 14-19.
This hands-on workshop focuses on easy-to-learn, low-cost, environmentally-friendly building strategies especially appropriate for our climate. Beginning with an earth-sheltered steel shipping container, we will be attaching a straw bale wall on the south side for insulation, with windows for passive solar heating. We will also begin construction of a cob (sculptural load-bearing earth walls) studio, recessed into the ground with a low-impact earthbag foundation. Clay soil from the site will be used for cob and for plastering the straw bales and earthbags. About 6 hours each day will be spent building together, with an additional 2-4 hours of lectures, presentations, and a tour of local alternative buildings. Presentations include: evaluating and harvesting clay soils for building; effective use of natural materials for energy-efficient passive solar designs; household water reuse and composting toilets; and a visual tour of natural buildings around the world.
Instructor: Michael G. Smith helped found The Cob Cottage Company in Oregon in 1993. Since then he has taught over 100 hands-on natural building workshops and designed and/or helped build over 50 natural structures. He consults with owner-builders on using on-site and locally available materials to build efficient, low-cost, comfortable and beautiful homes. He is the author or co-author of 3 books on natural building, including The Hand-Sculpted House and The Art of Natural Building.
Cost: $550 if paid in full by May 12; $650 thereafter. Includes instruction, on-site camping, and 3 delicious vegetarian meals per day. $50 discount (each person) for families and friends registering together. Youth 10 – 18 half price. Children 9 and under free. Some work trade positions available. The total size of the class is limited to 16, so register early.